Suffrage Centennial 2017-2020
EVENT CALENDAR: AUGUST 2020
Celebrate National Suffrage Month with online events, conversations and media
Era: Suffrage Era | Media: Entertainment, Exhibition, Film, Monuments, Music, Podcast, Web-based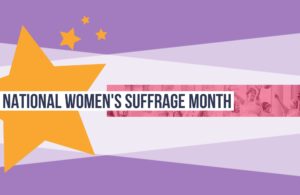 In coordination with politicians such as Senator Tammy Baldwin (D-WI), Senator Susan Collins (R-ME), Congresswoman Debbie Lesko (R-AZ) and Congresswoman Brenda Lawrence (D-MI), the Women's Suffrage Centennial Commission worked to designate August 2020 as National Women's Suffrage Month!
In celebration of both this designation and the centennial of women's suffrage in the United States that it represents, the Women's Suffrage Centennial Commission has put together a calendar of events, ranging from musical performances and film screenings to conversations with female thought leaders.
This calendar also contains a schedule for podcast episode releases related to the suffrage centennial, such as And Nothing Less hosted by Rosario Dawson and Retta.
It also includes the WSCC's Forward Into Light Celebration on August 26, when buildings and landmarks across the country will light up in purple and gold in celebration of the centennial. The campaign is named for the historic suffrage slogan, "Forward through the Darkness, Forward into Light."