Secondary Source
Essays on a Blog: The Suff Buffs: Your Not So Average Herstory Series
The US Women's Suffrage Centennial Commission, Monthly March - August 2020
Era: Post-Suffrage Era, Suffrage Era | Media: Essay, Government Document, Scholarly Resarch, Web-based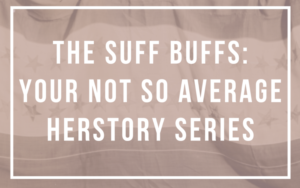 On March 11, 2020, the US Women's Suffrage Centennial Commission launched its "The Suff Buffs Blog," a series of monthly essays by noted suffrage historians exploring various aspects of the history of women and the vote. Through this new blog series, the WSCC intends to "bring you the extraordinary stories of women's fight for their right to vote, written by the country's leading suffrage historians."
By Sally Roesch Wagner
"Never was justice more perfect; never was civilization higher," suffrage leader Matilda Joslyn Gage wrote about the Haudenosaunee, or Iroquois Confederacy, whose territory extended throughout New York State.
By Tina Cassidy
President-elect Woodrow Wilson's train pulled into Washington's Union Station on March 3, 1913. It was a day that launched an epic eight-year, David-and-Goliath struggle between Alice Paul and Wilson over the very definition of democracy and American values…
By Susan Ware
Mormon women's status as polygamous female voters thrust the national women's suffrage movement into the center of one of the most far-reaching political and legal questions of its day.
By Paula J. Giddings
On the eve of Woodrow Wilson's inauguration, Ida B. Wells-Barnett was in a Washington, D.C. drill rehearsal hall with sixty-four other Illinois suffragists. . .
By Rebecca Boggs Roberts
On the afternoon of March 3, 1913, the day before the inauguration of Woodrow Wilson as the nation's 28th president, thousands of suffragists gathered near the Garfield monument in front of the U.S. Capitol …
By Johanna Neuman
Most suffrage histories begin in 1848 in Seneca Falls, New York. While Seneca Falls remains an important marker, women had been agitating for this basic right of citizenship even before …
By Winnifred Conkling 
Harry T. Burn had a secret. Everyone assumed he was an "anti," meaning he would vote against ratification of the 19th Amendment granting women the right to vote …
By Allison K. Lange
Over a century after her death, many even recognize her picture. In 1979, she became the first woman whose portrait appeared on a circulating coin in the United States. How did Anthony's face become so visible?
By Cathleen D. Cahill
Mabel Ping-Hua Lee was a feminist pioneer. She was the first Chinese woman in the United States to earn her doctorate and an advocate for the rights of women and the Chinese community in America.
By Winnifred Conkling
Only one woman in American history – Congresswoman Jeannette Rankin – ever cast a ballot in support of the 19th Amendment. In 1916, Rankin represented the citizens of Montana in the U.S. House of Representatives, and she wanted American women nationwide to enjoy the benefits of suffrage.
By Susan Philpott
"I am what you call a Hooligan," Emmeline Pnakhurst announced to the standing-room only crowd of women packed into Carnegie Hall in October 1909. The American suffrage and labor activists in attendance cheered as Mrs. Pankhurst regaled the audience with stories about the fight to win the vote for British women.
By Ida E. Jones
Mary McLeod Bethune — educator, club woman, and stateswoman — asserted the universality of equality in and through all things. Her contributions to the women's suffrage movement were evident in her rhetoric challenging American society to become a true democracy.