Essays on a Blog: The Suff Buffs: Your Not So Average Herstory Series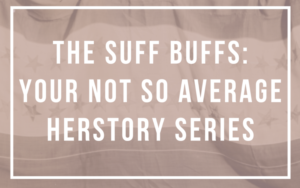 On March 11, 2020, the US Women's Suffrage Centennial Commission launched its "The Suff Buffs Blog," a series of monthly essays by noted suffrage historians exploring various aspects of the history of women and the vote. Through this new blog series, the WSCC intends to "bring you the extraordinary stories of women's fight for their right to vote, written by the country's leading suffrage historians."
By Sally Roesch Wagner
"Never was justice more perfect; never was civilization higher," suffrage leader Matilda Joslyn Gage wrote about the Haudenosaunee, or Iroquois Confederacy, whose territory extended throughout New York State.
By Tina Cassidy
President-elect Woodrow Wilson's train pulled into Washington's Union Station on March 3, 1913. It was a day that launched an epic eight-year, David-and-Goliath struggle between Alice Paul and Wilson over the very definition of democracy and American values…
By Susan Ware
Mormon women's status as polygamous female voters thrust the national women's suffrage movement into the center of one of the most far-reaching political and legal questions of its day.
By Paula J. Giddings
On the eve of Woodrow Wilson's inauguration, Ida B. Wells-Barnett was in a Washington, D.C. drill rehearsal hall with sixty-four other Illinois suffragists. . .
By Rebecca Boggs Roberts
On the afternoon of March 3, 1913, the day before the inauguration of Woodrow Wilson as the nation's 28th president, thousands of suffragists gathered near the Garfield monument in front of the U.S. Capitol …
By Johanna Neuman
Most suffrage histories begin in 1848 in Seneca Falls, New York. While Seneca Falls remains an important marker, women had been agitating for this basic right of citizenship even before …
By Winnifred Conkling 
Harry T. Burn had a secret. Everyone assumed he was an "anti," meaning he would vote against ratification of the 19th Amendment granting women the right to vote …
By Allison K. Lange
Over a century after her death, many even recognize her picture. In 1979, she became the first woman whose portrait appeared on a circulating coin in the United States. How did Anthony's face become so visible?
By Cathleen D. Cahill
Mabel Ping-Hua Lee was a feminist pioneer. She was the first Chinese woman in the United States to earn her doctorate and an advocate for the rights of women and the Chinese community in America.
By Winnifred Conkling
Only one woman in American history – Congresswoman Jeannette Rankin – ever cast a ballot in support of the 19th Amendment. In 1916, Rankin represented the citizens of Montana in the U.S. House of Representatives, and she wanted American women nationwide to enjoy the benefits of suffrage.
By Susan Philpott
"I am what you call a Hooligan," Emmeline Pnakhurst announced to the standing-room only crowd of women packed into Carnegie Hall in October 1909. The American suffrage and labor activists in attendance cheered as Mrs. Pankhurst regaled the audience with stories about the fight to win the vote for British women.
By Ida E. Jones 
Mary McLeod Bethune — educator, club woman, and stateswoman — asserted the universality of equality in and through all things. Her contributions to the women's suffrage movement were evident in her rhetoric challenging American society to become a true democracy.
By Ann D. Gordon
Throughout the tumultuous second half of the nineteenth century, these friends, nearly the same age, butted heads more than once. Because they were people of strong convictions, their pursuits sometimes overlapped and sometimes collided.
By Wendy Rouse
When lawyer and suffragist Gail Laughlin discovered that her evening gown had no pockets in it, she refused to wear it until the pockets were sewn on. Objecting to the restrictive nature of women's clothing was just one of the ways that suffragists sought to upend the status quo in the early twentieth century.
By Brooke Kroeger
Imagine what it must have meant for "the thinking men of our country, the brains of our colleges, of commerce and literature," in suffrage leader Carrie Chapman Catt's phrase, to involve themselves with such gusto in a campaign designed to dilute their preeminence at the ballot box.
New Mexico's Hispanic women's advocacy of suffrage and their work with the National Woman's Party reminds us that Spanish was also a language of suffrage. Armed with economic security and the political clout of long-established Spanish-speaking families, New Mexico's Hispanic women represented a formidable political force.
By Alison M. Parker
Born into slavery in Memphis, Tennessee during the Civil War, Mary Church Terrell became a civil rights activist and suffrage leader. Coming of age during and after Reconstruction, she understood through her own lived experiences that African-American women of all classes faced similar problems, and she worked tirelessly for racial justice and gender equality.
Laurel Bower and Kathleen Grathwol
When Carrie Lane Chapman Catt was 13-years-old and living in rural Charles City, Iowa, she witnessed something that would help to decide the course of her life. Her family was politically active and on Election Day in 1872, Carrie's father and some of the male hired help were getting ready to head into town to vote. She asked her mother why she wasn't getting dressed to go too. Her parents laughingly explained to their daughter that women couldn't vote.

By Cathleen D. Cahill
The story of Indigenous women's participation in the struggle for women's suffrage is highly complex, and Zitkala-Ša's story provides an illuminating example.